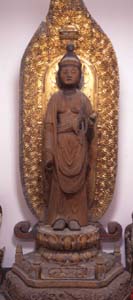 | | |
| --- | --- |
| Pseudonym reading | New Year's Eve |
| Specified type | Prefecture designation |
| Type | Sculpture |
| Designated date | April 5, 1954 |
| Specified details | |
| quantity | 1 body |
| location | Ichinoseki City Hanasencho Old pine |
| owner | Daishoji |
| Holding group | |
| Management organization | |
| home page | |
Overview
Image height 166.6 cm.
It represents a wooden frame, a wooden frame, and a substrate.
The hands are joined by the wrists and missing the right hand, but in a relatively complete manner, they are now being scolded as one-piece Buddha of raw wood.
According to the temple tradition, it was reported that the Ainaga moved from Kanto Anbo during the year (1394 to 1411), but if this was to be true, it could be compared with the local Buddha statue built in this prefecture, this point But it has valuable material value.