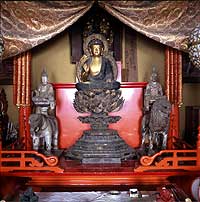 | | |
| --- | --- |
| Pseudonym reading | Mokuzokushakasansonsou |
| Specified type | Prefecture designation |
| Type | Sculpture |
| Designated date | April 5, 1954 |
| Specified details | |
| quantity | 3 bodies |
| location | Kitakami city Inase-cho Uchimonoka |
| owner | Ruinyanji Temple |
| Holding group | |
| Management organization | |
| home page | |
Overview
The statue high middle 86.3 cm.
Bunshi 44.5 cm.
Fugen 43.9 cm.
All three statues are made of wood, roving, and sculpting techniques combined with folding screens. Nakason sits in Kujutsuza with preaching signs, and a light spine (damage) exists.
The Buddha statue has a sculptural style in its paintings and tense expressions.
The eye is an eyeball of crystal and is a style with a fine cutting edge.
There are traces of repairs during the Edo period.
The Wakuto Bunju and Fusoen both are damaged and handed, but the Lions of the pedestal and the white elephant are wonderful with the taste of the times.
It is estimated to be an early work of Kamakura, and it is a valuable relic as a three-precious Buddha.