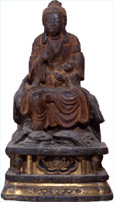 | | |
| --- | --- |
| Pseudonym reading | I'm sorry |
| Specified type | Prefecture designation |
| Type | Sculpture |
| Designated date | July 25, 1956 |
| Specified details | |
| quantity | 1 body |
| location | Hiraizumi-cho Hiraizumi character clothing |
| owner | Ohridin |
| Holding group | |
| Management organization | |
| home page | Hiraizumi's cultural heritage |
Overview
Image height 42.4 cm.
Wooden, cypress, single wooden.
It is a celestial statue holding a child in the left hand and a pomegranate branch in the right hand.
It is also known as a former devil's mother god, and it was a devil woman who caught and eats the girl of another's, but it is said that he repented, turned to Buddha law, and became a good deity who protects an infant.
Although there are few examples of Eriashi Teimari image throughout the country, this image is a valuable work that is also excellent in terms of molding.
The production age is said to be in the late Heian period.