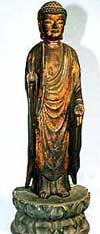 | | |
| --- | --- |
| Pseudonym reading | Please take a look at it. |
| Specified type | Prefecture designation |
| Type | Sculpture |
| Designated date | May 16, 1958 |
| Specified details | |
| quantity | 1 body |
| location | Iwashido, Esushi-ku, Oshu-shi |
| owner | Matsuiwa Temple |
| Holding group | |
| Management organization | |
| home page | |
Overview
Height 38.1 cm.
Copper, plating.
The author is a carpenter, Gokai Akai, in the form of the Zenko-ji Temple style that became popular in the Kamakura period.
The back has the following inscription.
Zenko-ji Temple Dorai statue Daisuke Naoishi Yumeisho Ito Shiro Ito Carpenter Akai Heigoro (Akai and sales are the names of Iwaki city.
) 1 戌 戌 (1328) 辰 28, pedestal is missing.
As a well-known Zenkoji Buddha statue, this prefecture is a northern limit and valuable as a regional production.
image