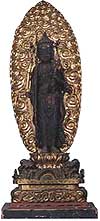 | | |
| --- | --- |
| Pseudonym reading | New Year's Eve |
| Specified type | Prefecture designation |
| Type | Sculpture |
| Designated date | March 19, 1965 |
| Specified details | |
| quantity | 1 body |
| location | Kitakami city Kuroiwa |
| owner | Hakusan Shrine |
| Holding group | |
| Management organization | |
| home page | |
Overview
Image height 56.5 cm.
Wooden, one wooden.
There is a dorsal fin and he wears a backboard.
It is said to be the former Hakusanji Temple Honson, and it is Hase Kannon with a tin cane on the left.
It is considered to be a stylized work of the end of Heian in terms of appearance and clothing patterns, and it is rare as a small ancient statue of a eleven-faced Kannon seen in the prefecture.
It is believed that the Tenri and feet will be repaired by the future.
The back of the light, the pedestal is also considered as a supplement, but it remains quite old and valuable.