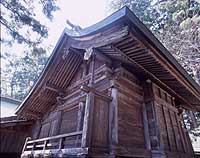 Pseudonym reading
Hidajinjahonden
Specified type
Country designated / important cultural property
Type
Building
Designated date
September 11, 1990
Specified details
quantity
1 building
location
Oshu City Mizusawa Ward Hidakakoji
owner
Hidaka Shrine
Holding group
Management organization
home page
Overview
Hidaka Shrine is an ancient company in the Tohoku region where it was founded in 806. It is the hometown of Hokutosei, and its faith has been collected as a temple to worship Myoko, and has been known since ancient times as "Hidaka Myoko".
It is reported that the current main shrine was erected by Kansei 9 (1632), who was a Veteran of Date and who was the Mizusawa hall owner.
It consists of a main hall, a hall of worship, and a pottery, but the present hall of worship and the pottery were completed in 1955.
Hidaka Shrine Honden is a Sanka-san style, copper plate casket (Motobori).
In Iwate Prefecture, it is one of the few main shrines that can be traced back to the early Edo period.
It is also excellent in its making, and its distinctive form is seen in the inseam, taiwa and piers, etc., and it is valuable in knowing the history of the shrine architecture of this prefecture.