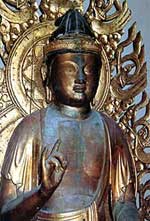 | | |
| --- | --- |
| Pseudonym reading | Mokuso Shokan Nonza |
| Specified type | Prefecture designation |
| Type | Sculpture |
| Designated date | March 8, 1966 |
| Specified details | |
| quantity | 1 body |
| location | Ichinoseki City Daitocho Shibutan |
| owner | Higashikawa-in |
| Holding group | |
| Management organization | |
| home page | |
Overview
Image height 113.7 cm.
It is a wooden frame, a wooden frame, a lacquered foil finish, and a sculpted eye.
The first finger on the right hand and the third finger are twisted and raised in front of the chest, and the left hand is lying in front of the knee.
The light is transparent and is 154.5 cm high.
On the top of the eight flying objects, put a Dainichi Nikki.
The pedestal is 80.3 cm in height, and has nine stages of lotus valves.
According to the inscription of repair in 1667, it is said that Jianbu 5 (1338) is a work of Sumida Tachibo and a sumi.
It is rare and rare that the originals of Buddha's body, light back, and pedestal are the same.
image