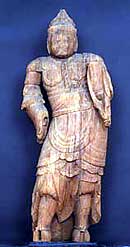 | | |
| --- | --- |
| Pseudonym reading | Japanese language course |
| Specified type | Prefecture designation |
| Type | Sculpture |
| Designated date | June 6, 1969 |
| Specified details | |
| quantity | 1 body |
| location | Shiba Town Toyama character Kamikofukada |
| owner | Shoonji Temple |
| Holding group | |
| Management organization | |
| home page | |
Overview
Image height 174.2 cm.
Wooden, Katsura, Yotsuba.
Drop your right arm and raise it in front of your left arm.
The part of the neck is separated, but the part of the body goes around one tree.
There is a vertical split on the back.
The back of the head, both wrists, right toe missing.
In addition, the right knee and below decay.
The production age is estimated to be in the late Heian period.
Originally, it was enshrined in Yakushido, but now it is enshrined in the Shosonji storage.