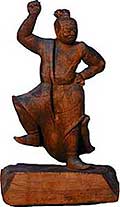 | | |
| --- | --- |
| Pseudonym reading | Check also |
| Specified type | Prefecture designation |
| Type | Sculpture |
| Designated date | June 6, 1969 |
| Specified details | |
| quantity | 1 body |
| location | Kitakami city Kuroiwa |
| owner | Hakusan Shrine |
| Holding group | |
| Management organization | |
| home page | |
Overview
Image height 50.0 cm.
Wooden, Katsura, one wooden.
Raise the right hand, put the left hand on the waist, raise the right foot and stand with the left foot.
There is a flat rock shaped wooden pedestal.
The former Hakusan-ji Temple is a great temple that is said to have been built during the Heian period, and it is said that of those pagodas it would have been in Zao-do, and now it is enshrined in the Hakusan Shrine Treasure Chest.
The production age is estimated to be the Kamakura period, and the smooth finish of a single wooden structure is a rare Buddha image of the Kamakura period seen in the prefecture.