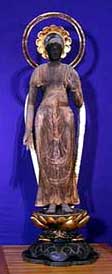 | | |
| --- | --- |
| Pseudonym reading | New Year's Eve |
| Specified type | Prefecture designation |
| Type | Sculpture |
| Designated date | February 15, 1974 |
| Specified details | |
| quantity | 1 body |
| location | Hanamaki City Towacho Kitanarijima |
| owner | Bishamondo |
| Holding group | |
| Management organization | |
| home page | |
Overview
Image height 141.0 cm.
Wooden, one wooden.
The inside is given, the backboard is put on, and both the foot and the handle are made of one wood.
Both the right hand and the left hand have broken the second finger, but both arms are attached to another tree by fixing them and repairing their wrists in accordance with the hit sign of arrival.
The inscription on the main body describes the eleven-faced Kannon Shingon, the Shakugan Shinto, etc., and there is a master's name of "Sakagami Satoshi 縁 縁 伴".
"Chengde (Chengde) long-lived longevity An moderate flat ground for the resurgence of December 10, 2000" repair inscription of the back plate, with the Buddha head possessed by the soldier's department of the Senfu-fu, limbs, ring light, pedestal It states that it has been repaired.
The production age is Chengde 2 years (1098), and the neck and other supplements are in the Edo period.
It is valuable as it is a reference of the style of the same period as an inscription of sculptures in Tohoku.