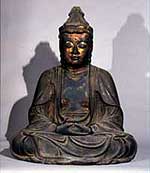 | | |
| --- | --- |
| Pseudonym reading | Japanese language school |
| Specified type | Prefecture designation |
| Type | Sculpture |
| Designated date | February 15, 1974 |
| Specified details | |
| quantity | 1 body |
| location | Rikuzentakata city Yonezaki town character ground Takezawa |
| owner | Fumonji |
| Holding group | |
| Management organization | |
| home page | Fumonji |
Overview
Image height 55.1 cm.
It is a wooden house, a wooden house, and an eyepiece.
It has a broom, a high treasure chest, a brow statue, and a combination of both hands tied with a mark on the knee that is sitting.
It is close to the Amitabha statue, which is called "red tauri-colored amitabha statue" from the viewpoint of the temple.
On the back of the womb, there is a reprint of the reincarnation Tsunataka Tsutohiro Tsuji Oda Chiba Sounoshi, a father's mirror, the mother-in-law spring, and in 11 of Owada Aki mori mother, Kintanba mori mother etc.
In addition, there are inscriptions of residence perpetrators, Buddhist priests, and receptions in 259 (1559), and they are valuable as materials.