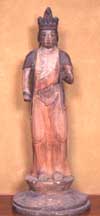 | | |
| --- | --- |
| Pseudonym reading | New Year's Eve 14 |
| Specified type | Prefecture designation |
| Type | Sculpture |
| Designated date | March 4, 1975 |
| Specified details | |
| quantity | 2 bodies |
| location | Hanamaki City Towamachi Anzai |
| owner | Suiyunji Temple |
| Holding group | |
| Management organization | |
| home page | |
Overview
[1] Image height 157.2 cm.
The top of the statue is carved low with the Buddha side, 9 sides are placed around the head, and the nose and crown are not carved, but they are standing statues that are carved like projections, right to the hand, left to the left It is a wooden house to the end.
The toe is sculpted without being carved, and it is characterized by the fact that it is continuous with the Tenkata.
[2] Image height 166.6 cm.
It is a relatively well-preserved statue of a wooden structure, with some colored patterns on the back.
The eleventh side is also carved separately and inserted, and it is valuable as a work to convey the original appearance.
Both are works of the Kamakura period.
image