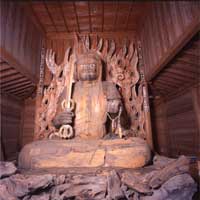 | | |
| --- | --- |
| Pseudonym reading | Mokuzofu-do |
| Specified type | Prefecture designation |
| Type | Sculpture |
| Designated date | March 4, 1975 |
| Specified details | |
| quantity | 1 body |
| location | Hiraizumicho Hiraizumi character Kitazawa |
| owner | Saikkouji |
| Holding group | |
| Management organization | |
| home page | Hiraizumi's cultural heritage |
Overview
Image height 275.7 cm.
Apply wooden, Katsura, Yaki, original coloring.
It is a sitting statue with a raised right hand, a sword, a bowed left hand and a chord, like a great master-like immobile image.
Currently, only the face and chest remain, and all others are Edo period corrections.
The back of the flame, the base of the rock is a posthumous correction, and the back of the head is also a correction.
The post supplements are mostly Hinoki and Harunire.
The production age is in the late Heian period.