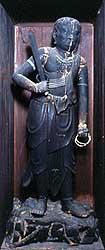 | | |
| --- | --- |
| Pseudonym reading | Check List |
| Specified type | Prefecture designation |
| Type | Sculpture |
| Designated date | April 26, 1977 |
| Specified details | 1 body |
| quantity | |
| location | Kitakami city Kuroiwa |
| owner | Fujimoto Matsuzo |
| Holding group | |
| Management organization | |
| home page | |
Overview
Image height 139.0 cm.
Wooden, Katsura.
Vertically split, there is a back pain.
The neck is squeezed, with a scaly eye, and the mouth has upper and lower fangs.
It is said that Mr. Waga donated to Hakusanji.
It is considered to be an early work of the Kamakura period.
Unusual in the region, it is valuable as a masterpiece with the style of the central system.