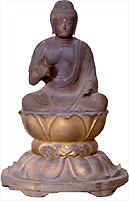 | | |
| --- | --- |
| Pseudonym reading | Mokuzo Amidada |
| Specified type | Prefecture designation |
| Type | Sculpture |
| Designated date | April 26, 1977 |
| Specified details | |
| quantity | 1 body |
| location | Hiraizumicho Hiraizumi Osawa |
| owner | Hakuoin |
| Holding group | |
| Management organization | |
| home page | Hiraizumi's cultural heritage |
Overview
Image height 21.5 cm.
Wooden, Hinoki, Yakito.
I will sign the following.
The body trunk is a supplement to the one tree, two rabbits, and the front of the knee.
The production period is the end of Heian, and is said to be the work of Lun-kei Buddha.
The first part is only the head, face and trunk, but it is a valuable artifact that conveys the style of the end of the Heian period.