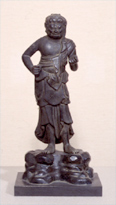 | | |
| --- | --- |
| Pseudonym reading | Please go ahead. |
| Specified type | Prefecture designation |
| Type | Sculpture |
| Designated date | April 26, 1977 |
| Specified details | |
| quantity | 1 body |
| location | Hiraizumicho Hiraizumi Osawa |
| owner | End of life |
| Holding group | |
| Management organization | |
| home page | Hiraizumi's cultural heritage |
Overview
Image height 28.9 cm.

Bronze.

Head body is a single cast, leaving the soil and iron core.

Both hands should be attached to the shoulders with ant.

I got an eyebrow, drooping my hair, hanging my hair on my left shoulder, my eye, my eyes, my hair, my hair, I put on my eyebrow and waist cloth.

The left hand humps and squeezes, the right hand stretches and bows, presents a sword (missing) at the waist, twists the waist to the right, and stands with the left leg open.

The left hand is shoulder and below supplements, possessions, post-snoring supplements.

Iwaza is wooden and colored (supplemented).

The production age is the Kamakura period, and it is valuable as a relic of the immovable small gold bronze Buddha of the age.