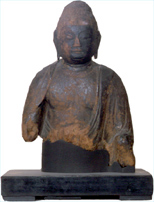 | | |
| --- | --- |
| Pseudonym reading | In addition to the program |
| Specified type | Prefecture designation |
| Type | Sculpture |
| Designated date | April 26, 1977 |
| Specified details | |
| quantity | 1 body |
| location | Hiraizumicho Hiraizumi Osawa |
| owner | Shosenin |
| Holding group | |
| Management organization | |
| home page | Hiraizumi's cultural heritage |
Overview
Image height 30.0 cm.
Represent the substrate with wooden, Katsura, wooden, and sculpted eyes.
Haircut.
In a traditional manner, covering the left shoulder of the coat, it hangs on the right shoulder.
The left hand is humped and rests on the knee, and the right hand is humped.
However, both legs including the lower abdomen are removed from the biceps.
It is a late Heian period work and is said to be Yakushi Nada.
The style is mild, showing the late Heian appearance, but the eyelids are high, the eye opening is large, and the lower eyelids are not clearly cut, and the flesh of the cheek and body are slightly heavy.
It is a damaged Buddha, but a valuable resource.