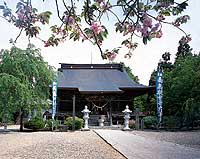 Pseudonym reading
Teijiji
Specified type
Country designated / important cultural property
Type
Building
Designated date
September 11, 1990
Specified details
quantity
2 buildings
location
Ninohe City Johoji Town Oyama character Oyama Kubo
owner
Tendai-ji Temple
Holding group
Management organization
home page
Ninohe City (Hachihayama Tendaiji Temple)
Overview
One main hall, one Niodomon, Tendai-ji Temple is an ancient temple of Tendai sect which tells that Yukimoto was created by the enthusiasm of Emperor Takeshi, and it has prospered as a representative Kannon Rei from the Tohoku region since ancient times, and is known by the name "Katsuri Shimizu Kannon". It is done.
Mr. Nambu who reigned in this region revered the Tendai sect during the Middle Ages and early modern times, donated the temple territory, and frequently revived and maintained the fortification.
It is clear from the construction documents and tags of the first year of the Meiji Era (1658) that the present main hall and Innomon were built by the Morioka lord Nanbu Shigenao.
The main hall is Gohando, which is an imitation house structure and a copper plate fence (the original rubble, which is a board when it was built).
The inside is the outskirts between the front two, the inside between the middle three out of the back three, the inside between the two sides and the side street between the two sides, and a large ladder is built behind the inside.
It is built eight steps south of the main hall in the eight-leg gate of gables, Teppan-tei.
A central passage is a passage, and a golden statue of a wooden statue is placed between the two sides.
Tendaiji Main Hall is a full-fledged Buddhist temple in the early Edo period. The large-sized dumplings inside and the construction of each part are excellent, and the features of the modern period are well visible in details such as groin and kinos.
At the same time, the Niimon, which will be built at the same time, is still in use, and it is also valuable in knowing the technical level of Morioka Sakai carpenter.