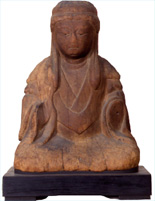 | | |
| --- | --- |
| Pseudonym reading | Shinku Mokuzo |
| Specified type | Prefecture designation |
| Type | Sculpture |
| Designated date | April 26, 1977 |
| Specified details | |
| quantity | 1 body |
| location | Hiraizumicho Hiraizumi Osawa |
| owner | Kongoin |
| Holding group | |
| Management organization | |
| home page | Hiraizumi's cultural heritage |
Overview
Image height 39.5 cm.
Represent the substrate with wooden, Katsura, wooden, and sculpted eyes.
Goddess form, wrap a string on the middle of the barber section, and both ends of it hang long on both shoulders from behind the ear.
Wear a wide-sleeve coat and sit bowing on both sides.
It is enshrined as a divine body of Kumano Shrine.
In the style of the late Heian period, in a gentle style, in the figure that manifests the godly, it conveys the style of this period.
It is a valuable remnant of the goddess statue in this prefecture.