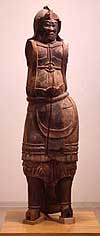 | | |
| --- | --- |
| Pseudonym reading | Memory Level |
| Specified type | Prefecture designation |
| Type | Sculpture |
| Designated date | April 26, 1977 |
| Specified details | |
| quantity | 1 body |
| location | Ninohe City Johoji Town Oyama character Oyama Kubo |
| owner | Tendai-ji Temple |
| Holding group | |
| Management organization | |
| home page | Ninohe City (Hachihayama Tendaiji Temple) |
Overview
Image height 160.0 cm.
Wooden, Katsura, one wooden.
Both arms and belongings are deleted.
The front of the wolf is missing, and the demon is also lost.
I lightly twist my hips.
Flowers, small notes, and white lands will be left on the shell.
Mesh patterns and the like remain in the lower part of the underwear at coloring or inking.
My lips are after my eyebrows.
It is reported that it is a local production in the middle of the Heian period, and it is valuable to know the year of the statue of Shitenno in this prefecture.