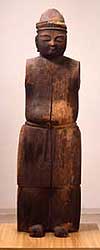 | | |
| --- | --- |
| Pseudonym reading | Mokuzo Denkichiten |
| Specified type | Prefecture designation |
| Type | Sculpture |
| Designated date | April 26, 1977 |
| Specified details | |
| quantity | 1 body |
| location | Ninohe City Johoji Town Oyama character Oyama Kubo |
| owner | Tendai-ji Temple |
| Holding group | |
| Management organization | |
| home page | Ninohe City (Hachihayama Tendaiji Temple) |
Overview
Image height 152.0 cm.
Wooden, Katsura, one wood.
Both arms are inset but deleted.
Shoulders slightly on the corners.
The face is basically round and has small jaws, the mouth is small, and there is a feeling of a crown on the head, but it is incomplete.
It is built locally.
The front part of the coat is sack-like and has five to four-flowered flower patterns, all of which are written in black.
The knees are shown in a four-tiered coat-pattern in black-and-white drawings, and all engravings are omitted.
It is said that it is Chisaku Chisaku Kichishoten.
In the Heian period, various local structures are found in various places, but as this prefecture, this image shows one style and is valuable, and in particular, it omits the sculpture and writes the outline in ink. Also, the flower print of ink painting is also valuable.