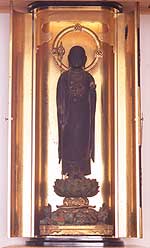 | | |
| --- | --- |
| Pseudonym reading | Untitled |
| Specified type | Prefecture designation |
| Type | Sculpture |
| Designated date | February 27, 1979 |
| Specified details | |
| quantity | 1 body |
| location | Hachimantai City Terada |
| owner | Seifukuji Temple |
| Holding group | |
| Management organization | |
| home page | |
Overview
Image height 75.0 cm.
Wooden, Katsura.
It is the phase of the training of the voice.
There is no white rose, and there is a feature in the place without a haze.
The sewing thread of silkworms is expressed in ink.
There are coloring marks, but it seems to be after.
The production age is estimated to be the end of Heian.
Zen ink-writing system shows the process to the medieval colored image.
The pedestal is considered to be of the late Middle Ages, but it is excellent for the lotus-ben and sculpting.
It is a good source of information about the age of Buddhist influx in northern Iwate Prefecture.