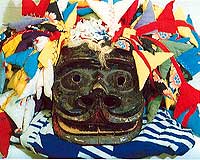 | | |
| --- | --- |
| Pseudonym reading | Shishigara (Gongensama) |
| Specified type | Prefecture designation |
| Type | Sculpture |
| Designated date | December 13, 1983 |
| Specified details | |
| quantity | 1 head |
| location | Kuji City Okuji Town |
| owner | Toyoko Kishisato |
| Holding group | |
| Management organization | |
| home page | |
Overview
Width 26 cm, depth 27.2 cm, height 19 cm.
Wooden, lacquered and painted, and foiled.
His eyebrows and eyes are open, and the nostrils are open, revealing the upper and lower teeth.
The surface is black lacquered, and foils are applied to teeth, eyes, eyebrows, and lip edges, and the nose is rough-cut and is a substrate.
The lower jaw is made separately and strapped.
It is transmitted as "Konkyo of the Retirement" of the local Tannai company.
Although the works are not necessarily good ones, the memoirs of the 17th year of civilization (1485) show the ancient bodies of the Muromachi period.
It is valuable in the sense of grasping the whole picture of the present status of this region.