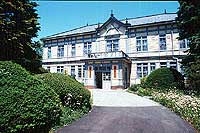 Pseudonym reading
Iwate-no-ugagubu (Kumori-no-Ku-no-To-no-rin)
Specified type
Country designated / important cultural property
Type
Building
Designated date
July 12, 1994
Specified details
quantity
2 buildings
location
Morioka City Ueda
owner
Country
Holding group
Management organization
home page
Iwate University Agricultural Education Museum with Faculty of Agriculture
Overview
One former main building, one gatekeeper, one additional main gate, Morioka Higher Agriculture and Forestry School, a predecessor of Iwate University's Faculty of Agriculture, was established in 1902 and the facilities were maintained from the end of Meiji to Taisho It was done.
The former main building is located south of the campus center south, and the gatekeeper is located southwest of the former main building.
The former main building started construction in May 1912 and was completed on December 22, 1921.
The gatekeeper was built at the time of school opening and was relocated to the present location with the construction of the main building.
The former main building is a two-story wooden building, and the entire second floor is an auditorium, with the principal's room, a cafeteria, an office, etc. on the first floor.
The former main building is one of the few existing remains of the center facilities of national vocational schools established in the Meiji period, and it is a valuable building to know the history of school architecture in Japan, with few remodeling and good preservation. is there.
The gatekeeper is also recognized as a school facility at the same time.
image