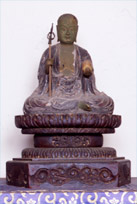 | | |
| --- | --- |
| Pseudonym reading | Untitled |
| Specified type | Prefecture designation |
| Type | Sculpture |
| Designated date | August 27, 1991 |
| Specified details | |
| quantity | 1 body |
| location | Oshu city Esashiku Minamimachi |
| owner | Komyoji Temple |
| Holding group | |
| Management organization | |
| home page | Komyoji Temple |
Overview
Image height 56.5 cm.
Wooden, Yoroko, colored statues of carved eyes.
Compared with the style of the Buddha statue of Buddha at Ibaraki-ji Temple, this image has a completely different style of expression on the face, shoulders, and slender body, and it looks like another person's work. Considering the change in style of the top image such as the monk-shaped sitting statue, the work like the main image is created not only on the difference between the representation of the statue and the representation of the statue, but also on the development of the style of the Buddha masterpiece. It can be assumed that the meaning of "Oyaga 9th (1402) October Chugoku" in the inscription is not as great as the Hiramitsu family became the applicant and made it build in Buddha statues with a connection to the Shokoji statue.
In the Kamakura period, there are examples of Nakako statues and new works (for example, Toshodaiji Temple auditorium and Buddha sitting statues), and it is necessary to take into account that the inscriptions of contemporary statues are notions of repair. is there.
It is under repair by Eisho and Taisho period, but, besides sculpting of the vicious flesh and body part of Taisho period, sculpturally, when considering the development of the style of the statuettes of the erection, it is notable It is valuable as an impossible artifact.