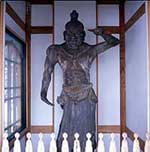 | | |
| --- | --- |
| Pseudonym reading | I'm sorry |
| Specified type | Prefecture designation |
| Type | Sculpture |
| Designated date | September 7, 1993 |
| Specified details | |
| quantity | 2 bodies |
| location | Hanamaki City Towamachi Anzai |
| owner | Suiyunji Temple |
| Holding group | |
| Management organization | |
| home page | |
Overview
Statue high ape 275.0 cm.
273.0 cm (shaped together).
Both statues are wooden, wooden, carved, colored.
The two statues are not a single tool from the beginning, and it is believed that there was once a statue of the same kind in the time of the Ajakuji erection that was paired with it.
It is believed that, in some circumstances, the original Daisho-ji (Gongen-do) was complemented by Ryonaga 1914 (1412), before the transfer to Suiyunji.
It may not be a mistake as it has been transmitted to this day as a second base.
The sculptability, figurative expression, and emotional expression of the Agata image and the Agata image are obviously different.
In spite of that, it does not give strange feeling as a tool strangely.
Although it is assumed that the Agata statue was originally an inner wooden statue of a wooden frame, the material, which was greatly restricted from the beginning, is exposed with very unique conception and sculptural ability, after trimming the grit to its very last There is.
This image can be said to be a relic that tells the typical of local (local) design, and can be said to be a valuable example for this prefecture.
In addition, although the sculptural shape is inferior in sculptability compared to the achitecture, the creation and creation of the full-fledged creation and creation of the giant statue of the half-length six in the 15th century is shown, and the structure aimed at uniqueness with the adic image. It has become.
image