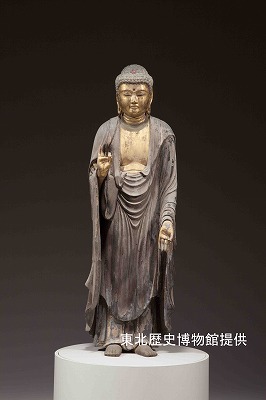 | | |
| --- | --- |
| Pseudonym reading | New Year's Eve |
| Specified type | Prefecture designation |
| Type | Sculpture |
| Designated date | November 14, 2017 |
| Specified details | |
| quantity | One boat |
| location | Ichinoseki City Fujisawa Town |
| owner | Religious corporation Tokunechotokuji |
| Holding group | |
| Management organization | |
| home page | |
Overview
The wooden Amida Buddha statue is the Nagatokuji Honson image and is enshrined in the temple main temple sudan.
Its shape is Amitabha, standing on the lotus seat under light of self-raising and measuring 84.4 cm in height. In a generally upright position, the head is slightly extended forward, the back is rounded, the left foot is stepped forward, and the waist is twisted forward right.
This image shows various styles and techniques developed during the Kamakura period, though it has both the features of Ankei (Jikkei) and Yunkei like in terms of its dressing style, head form and facial expression. At the same time, it is regarded as a valuable existence to know the structure of the contemporary Buddha image.
Among the Amitabha statues that have been produced since the Kamakura period, with a strong faith, especially in the Kinki region and the Kanto region by Keio school, they have succeeded in creating authentic images and represent examples of the Iwate prefecture area. Be done. In addition, compared with similar works of the same location in Iwate Prefecture, which has already been designated, the expression of individuality is less. In the art history, it can be highly appreciated in the cultural history as a typical example of the Buddha statue in the Kamakura period, and as an old example of so-called "Kamakura New Buddhism" wood statues located in Iwate Prefecture.
image