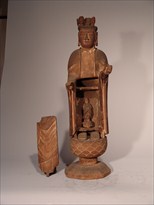 | | |
| --- | --- |
| Pseudonym reading | Check if you have any questions or questions about it |
| Specified type | Prefecture designation |
| Type | Sculpture |
| Designated date | November 13, 2012 |
| Specified details | |
| quantity | 1 body 1 body |
| location | Morioka City Ueda Character Matsuyashiki Iwate Prefectural Museum |
| owner | Individual |
| Holding group | |
| Management organization | |
| home page | |
Overview
It is a medieval Buddha with the back of the Edo period 710 (1510) in the late Muromachi period, and the oldest year issue in the Kamaishi and Kami-Oyukoi districts. At the same time, it expresses a sense of simplicity and a sense of forest, and it is valuable as an excellent statue that expresses the spiritual world of the Middle Ages, which inhabits Buddha as a kami.
Originally, this Kannon image was originally enshrined at the site of the Yusuzumi Shrine one step higher before the Meiji era, and it was composed of the Tsunami residential area that was destroyed by the tsunami and the Yusuzumi Shrine (together with the Kannon-do) that sits just above it. What a contrasting scene means is big.
The Kannon Hall was originally built in a safe position, the approach was an evacuation route, the festival was an evacuation training naturally, and the shrine and its open space were also shelters. In fact, many citizens went up to the Yusu Shrine and escaped difficulties.
The significance as a cultural asset that inherits and remembers ancient wisdom that protects the area from disasters is great.
image