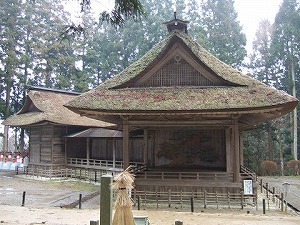 Pseudonym reading
Hakusan-jin-no-hafuto
Specified type
Country designated / important cultural property
Type
Building
Designated date
May 30, 2003
Specified details
quantity
1 building
location
Hiraizumicho Hiraizumi
owner
Hakusan Shrine
Holding group
Management organization
home page
Overview
Hakusan Shrine is one of Chusonji Jyuku and is located north of the temple grounds.
Haksan Shrine's Shinto Noh was conducted by a priest from Chusonji Ichiyama.
The existing Hakusan Shrine Nobei was completed in 1853 after the disappearance of Kanaga 2 (1849).

The stage and the dressing room are long and close to the east and west.
The bridge attached to the north face is a two-story structure with a steel plate, which extends northeast and connects between mirrors on the shrine side.
Between the mirrors, the west side is the Imaiya building, and the east side is the crest of the dormitory.

The Hakusan Shrine Noh Stage consists of an orthodox, full-scale and formal stage, a bridge, a mirror, and a dressing room, and it can be said to be the only complete Enoichi stage remnant in East Japan, and has high value. is there.

In addition, it is a valuable remains as a place of continuous entertainment in Kofun Chuson-ji Temple.