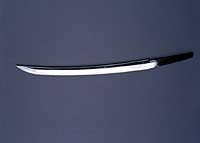 | | |
| --- | --- |
| Pseudonym reading | According to the cause |
| Specified type | Prefecture designation |
| Type | Craft |
| Designated date | March 4, 1975 |
| Specified details | |
| quantity | 1 bit |
| location | Morioka Ehime-cho |
| owner | Morioka |
| Holding group | |
| Management organization | |
| home page | |
Overview
Yanbao 8 th February, 45.8 cm in length.
Warpage 1.5 cm.
Forged, three-building, wide-ranging, important point, warpage is shallow.
The ground is a large flow of skin, and it thins in the waist.
The blade is a wide straight blade with a small boiling point, a little loose, mixed with a small disorder, and the edge of the blade.
The cutting edge is normal and returns to Daimaru.
The stem is raw, the tip is a sword-shaped butt, and the leopard eyes are falling.
Make the above inscription on the front and back.
On the lower side of the blade, the front shows the phrase "Autumn belt frost cold", and the back has a figure of bamboo on a plum.
Kuniyoshi was the second son of Shinkuni Yoshisuke in Fukuoka, Chikuzen, and with his brother Yoshihiro, he went down to Tobu (Edo), the first year of Enpo, and was called to Morioka Satoshi Shigenobu, but the Tenha year ~ 84) Move to Morioka and become the ancestor of Shinto Kuniyoshi.
The descendants of the country, Yoshimasa and Yoshimasa generations are produced, and the same group plays an active role as the central existence of Morioka clan.
It is thought that this long-tracked eight years (1680) is the earliest monumental work of his age, the oldest of his works.
Although modest, it has shown a solid and steady appearance.