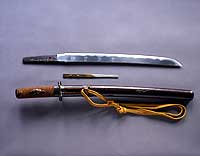 | | |
| --- | --- |
| Pseudonym reading | Whether you are a person or a person |
| Specified type | Prefecture designation |
| Type | Craft |
| Designated date | March 23, 1976 |
| Specified details | |
| quantity | 1 bit |
| location | Morioka City Ueda Matsuyashiki |
| owner | Iwate Prefecture |
| Holding group | |
| Management organization | |
| home page | |
Overview
Culture: February 3rd, Sword Engraved: Nichisui, Yukiichi Sekisui, 45.5 cm in length.
Warpage 0.6 cm.
Front-facing, back-cutting, round building.
Wide body, the ground is small plate, with boiling.
The blade statement is a disorder of the eyes of a small leaning tone, the upper half is scorched.
The sand flows deep and the gold streaks.
The cutting edge is Daimaru.
The above inscription is engraved on the blade.
The production age is 3 years of culture (1806), and the author is Masashige Yamagata.
Masashige is a person from Harima Kunishiki (Himeji), who insisted that he was in syllabary in 1789, and received Kai Mamoru in 1803.
He was good at baking large-hatch blades in a wide blade.
The third year of culture (1806) was the creator 47 years old, and the client Takamura Tamura was 20 years old.