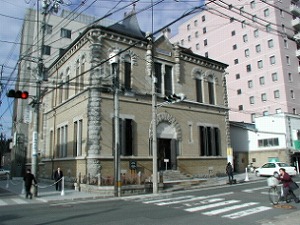 Pseudonym reading
University of Korea
Specified type
Country designated / important cultural property
Type
Building
Designated date
July 6, 2004
Specified details
quantity
1 building
location
Morioka City Nakanobashi Dori
owner
Morioka
Holding group
Management organization
home page
Overview
The former 90th Bank Main Store Main Building is located in the central area of Morioka City and was completed in December 1974, when it was constructed in 1941.
The designer is Yokohama Tsutomu from Morioka City.

It is a two-story brick building, partly on the first basement floor, with a brick side fence to the east of the south wing.
The first floor consists of a sales room and a customer store, a safe room, a reception room, a headroom and a second floor consists of a general meeting room and a boardroom room.
The exterior shows the solidity of the bank architecture in the Romanesque Revival style, while creating a clear and simple design of Zetssion indoors.

The main bank of the former 90th Bank is a work showing the process of leaving the style architecture as a whole, with the decorative elements being restrained, and it is important in the history of modern Japanese architecture as a posture reflecting European architectural movement at the end of the 19th century It is.
In addition, there are things to be seen in structural techniques, such as the truss beams of the second floor and the opening and closing mechanism of the second floor vent.