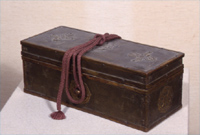 | | |
| --- | --- |
| Pseudonym reading | New Year's Eve |
| Specified type | Prefecture designation |
| Type | Craft |
| Designated date | April 4, 1978 |
| Specified details | |
| quantity | 1 combination |
| location | Hiraizumicho Hiraizumi Osawa |
| owner | Moshi Temple |
| Holding group | |
| Management organization | |
| home page | Hiraizumi's cultural heritage |
Overview
Total height 12.3 cm.
Vertical 34.4 cm.
14.1 cm wide.
9.1 cm in depth.
Made of indigo lid.
Put a thin brass plate on the entire surface (except for the bottom) of the lid and body, and place a thick, thick gold-and-copper cover around the periphery of each side and screw it on.
The lids are Takuma, Waho and Takuma statements, the long side of the body is the Waho sentence, the short side is the Waho and Takuma sentences, and the four corners of the body and the lid are the Mitomon sentences Strike a gold bronze plaque on each.
Put an eyelid on the inside (all but one side is missing).
Attach a purple braid as a stringing washer with the long side left and right hoops.
The plaque is thin, adding watermarks and lines.
During the ritual of the lavage, there are few examples of warship boxes that hold tools.
On top of that, this armor box came from China during the Muromachi period, uses precious brass, and is almost complete.