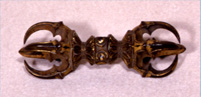 | | |
| --- | --- |
| Pseudonym reading | This day |
| Specified type | Prefecture designation |
| Type | Craft |
| Designated date | April 4, 1978 |
| Specified details | |
| quantity | 1 bit |
| location | Hiraizumicho Hiraizumi Character Moetsu |
| owner | Senshinin |
| Holding group | |
| Management organization | |
| home page | Hiraizumi's cultural heritage |
Overview
Total length 14.1 cm.
Handle length 5.0 cm.
Chief length 4.9 cm.
Made of gold and copper.
The cocoon is thick and overhanging, the oni is large, and the lotus pipe is tight.
Everything is different and there is a sense of strength.
One of the demons has a gold fill in the center.
Production is estimated to be in the late Heian period.
The form is different from the usual one, and it will be a delivery from China.
There is a legend for the great martial arts.