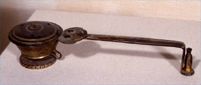 | | |
| --- | --- |
| Pseudonym reading | Togin Egor |
| Specified type | Prefecture designation |
| Type | Craft |
| Designated date | April 4, 1978 |
| Specified details | |
| quantity | 1 pattern |
| location | Hiraizumicho Hiraizumi Character Moetsu |
| owner | Senshinin |
| Holding group | |
| Management organization | |
| home page | Hiraizumi's cultural heritage |
Overview
Total length 34.7 cm.
Furnace diameter 10.4 cm.
The furnace is in the shape of a morning glory, with a cloister with a jewel.
Carp a rose on the handle, attach a heart-shaped plaque to the original place, and place a jar-shaped chisel first.
Production is in the late Heian period.
It is a simple structure, but the form is complete and complete.
There are few examples made of jade silver, which are valuable artifacts.