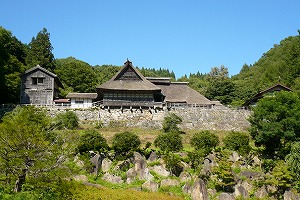 Pseudonym reading
Little girl
Specified type
Country designated / important cultural property
Type
Building
Designated date
December 4, 2007
Specified details
quantity
5 buildings
location
Tono City Takiori-cho Shiori
owner
Hiroko Chiba
Holding group
Management organization
home page
Overview
The Chiba house houses a house like a small castle at the foot of the west of Tono city.
The main house was built during the Tenpo year, and by the end of the Taisho era, the house was in its current position.
The main house is a so-called southern benthouse-shaped private house where the stables are projected to the front to form an L-shaped plane, and the main house has an elegant design such as using the edge of the facing material in the room of the main house.
The Chiba house is located at the southern edge of the distribution area of the southern area, has a typical plan in the Tono region, and adopts a refined room design, and has high value as a large curved house in the late Edo period. .