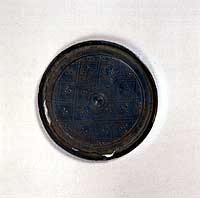 | | |
| --- | --- |
| Pseudonym reading | How is it? |
| Specified type | Prefecture designation |
| Type | Craft |
| Designated date | March 4, 1980 |
| Specified details | |
| quantity | One side |
| location | Shiba Town Tsuchikan character Urata |
| owner | Shinzan Shrine |
| Holding group | |
| Management organization | |
| home page | |
Overview
9.6 cm in diameter.
Edge height 0.3 cm.
casting.
It is a very thin mirror, with its surrounding edge rising open.
Inside is a circle of circle in a line, divided into 2 divisions inside and outside, and a wide inside division draws a bout by a double line, setting a star in each frame, of which 2 frames I will arrange a spear.
The cord is a twisted cord.
Outside area overlaps the diagonal line.
The material is good and the mirror surface is well polished and looks good.
The design on the reverse side is simple but well organized, and the flying spears of Suzaku are wonderful.
The cracks longer than the edge are caused by being buried in the soil for a long time.
The work of the middle Heian period, showing the characteristics of the period well.
It was excavated from the ruins of the former main temple of Shinzanji on the summit in September 1884.