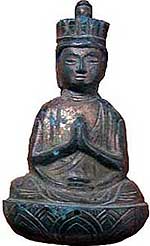 | | |
| --- | --- |
| Pseudonym reading | I'm sorry |
| Specified type | Prefecture designation |
| Type | Craft |
| Designated date | March 4, 1980 |
| Specified details | |
| quantity | 1 body |
| location | Shiba Town Tsuchikan character Urata |
| owner | Shinzan Shrine |
| Holding group | |
| Management organization | |
| home page | |
Overview
Total height 8.7 cm.
Width (between knees) 5.2 cm.
Image height 7.4 cm.
Casting, plating.
Lack of light and mirror plate.
The image has two small holes in the side of the head and three small circular holes in the pedestal to attach them.
The statue sits on the lotus position, the upper two of the four are in front of the chest and the lower two are superimposed on the knee.
Over the head, there are nine enacted Buddhas, but it is a very short body.
The statue will be Kannon.
It is simple, yet well-shaped, yet well preserved as though it were an excavated item.
Produced during the Kamakura period, it is a rare relic of this era, as there are few rare examples of gold and copper castings.
It was excavated from the ruins of the former main temple of Shinzanji on the summit in September 1884.