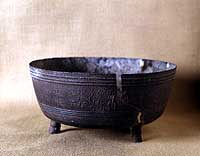 | | |
| --- | --- |
| Pseudonym reading | Tetsusai Sembachi |
| Specified type | Prefecture designation |
| Type | Craft |
| Designated date | March 4, 1980 |
| Specified details | |
| quantity | 1 bit |
| location | Ninohe City Johoji Town Oyama character Oyama Kubo |
| owner | Tendai-ji Temple |
| Holding group | |
| Management organization | |
| home page | Ninohe City (Hachihayama Tendaiji Temple) |
Overview
50.3 cm in diameter.
Total height 24.0 cm.
Bowl height 18.8 cm.
Leg height 5.6 cm.
Edge thickness 0.6 cm.
Leg diameter 3.5 cm.
casting.
The tripod is attached to the bowl which is open like morning glory, and 3 strings are attached to the top and the bottom of the bowl, and the thick string is attached to the legs from 2 to 3 from top .
On the surface of the pot, inscriptions are cast in 10 lines from the right to the left with the left letter between the upper and lower strings.
At present, a part of the bottom of the bowl is broken and split, and one of the legs is separated.
Produced in the Momoyama era of 6 years (1603), it is rare for such old iron pots to remain.
It is unusual to cast the left of the Qing's year, and the form is simple but in order.