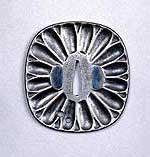 | | |
| --- | --- |
| Pseudonym reading | Tetsu Mokumeki Eki Katsuba |
| Specified type | Prefecture designation |
| Type | Craft |
| Designated date | March 4, 1980 |
| Specified details | |
| quantity | 1 sheet |
| location | Morioka City Ueda Matsuyashiki |
| owner | Iwate Prefecture |
| Holding group | |
| Management organization | |
| home page | Iwate Prefectural Museum (鐔) |
Overview
MORIOK Sumi Tachibana Koiezo.
8.8 cm in height.
8.3 cm sideways.
Thickness 0.7 cm.
The iron ground is forged with wood grain, and it is scooped out like a chrysanthemum of chrysanthemum, and the whole is made into a vertical round chrysanthemum flower shape.
The ears are round and the layer is thick.
There are two holes in the bottom of the dew ball, showing a change in the design.
The inscription is "Morioka Sumi Tachibana Koiezo".
Produced at the end of the Edo period, the author is Takaya.
Although it is a simple design, the forging is precise and the forged grained skin is finely represented.
It is a masterpiece that shows one style of Takaya.