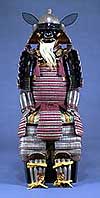 | | |
| --- | --- |
| Pseudonym reading | Ginhon Kozane Murasaki Ii and Toshio Shii |
| Specified type | Prefecture designation |
| Type | Craft |
| Designated date | October 3, 1980 |
| Specified details | |
| quantity | 1 device |
| location | Morioka Ueda Matsuya Riku, large sleeves, accessories |
| owner | Iwate Prefecture |
| Holding group | |
| Management organization | |
| home page | Iwate Prefectural Museum (Ginbon Kippu Shiitei two tool legs) |
Overview
Attached.
Total height 123.3 cm.
Waist height 42.8 cm.
Body width 35.6 cm.
Body thickness 30.3 cm.
There are 2 cylinders, 5 stages of impact cylinders, 7 stages of 1 large sleeve, and 5 stages of throat ring.
The leather shop is flower-bun-dye, and the metal fittings are carafe-bent carvings in a copper-and-copper fish area.
The metal fittings of the circle are 緒, and the cord is purple thread.
The bowl is oblate, the cheek is black lacquered, with a white bowl, and the bowl is a silver book note, 5 steps.
The production age is in the middle of the Edo period.
It is said that it is worn by trunks in the southern family tradition.
Silver book small bill (leather leather small note on silver.
) Is a perfect two-toner tool that harmonizes well with the threat of purple thread.
The work is excellent, brow and beautiful.