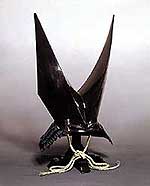 | | |
| --- | --- |
| Pseudonym reading | Naname-no-kabuto |
| Specified type | Prefecture designation |
| Type | Craft |
| Designated date | October 3, 1980 |
| Specified details | |
| quantity | 1 head |
| location | Morioka City Ueda Matsuyashiki |
| owner | Iwate Prefecture |
| Holding group | |
| Management organization | |
| home page | Iwate Prefectural Museum |
Overview
Total height 65.2 cm.
The end of the tail of the tail 40.2 cm.
The height of the tail is 50.6 cm.
The original width (open) of Shino 36.0 cm.
Washo form in total black lacquer.
In the case of the iron plate, the iron plate is 5 steps, the iron thread is used, the iron is used for the iron, the pot is made with a pot, and the iron is fixed with a copper rod.
It is a southern family tradition, and it was given by the Kiryu family when Toei got married to the daughter of the Kiryu village.
It is a work of the Momoyama period.
The Saio clan is made in the Yayoi family during the Momoyama period.
At that time, there were unusually shaped ridges made in various places, which are simple in form, yet powerful, and black is also preferred.
It is one of the outstanding armors and a complete product.