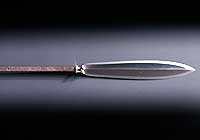 | | |
| --- | --- |
| Pseudonym reading | The day of the year |
| Specified type | Prefecture designation |
| Type | Craft |
| Designated date | October 3, 1980 |
| Specified details | |
| quantity | 1 bit |
| location | Morioka City Ueda Matsuyashiki |
| owner | Iwate Prefecture |
| Holding group | |
| Management organization | |
| home page | Iwate Prefectural Museum |
Overview
26.0 cm in length.
Original width 2.7 cm.
Medium width 4.1 cm.
Original stack 1.0cm.
Stem length 33.7 cm.
Mizuho Mizuho of a flat triangle.
The ground is board-to-skin flow, the blades are disordered and straight blades.
There is a bit of a shame.
Boil in a thick bowl on the flat side.
The stem is raw, one eye nail hole, and on the triangle side is long-standing "Noshu, Nobumi Nagatoshi".
Produced during the Muromachi period, it was a work by Munekuni Nagatoshi.
It is said that it was a southern family tradition, and that Shigenao was given by the Kato family when marrying a woman of Kato Yoshiaki.
There is a separate issue of release and delivery, or a crow head.