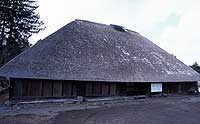 Pseudonym reading
き き た く
Specified type
Country designated / important cultural property
Type
Building
Designated date
November 29, 2011
Specified details
quantity
2 buildings (main storehouse, storehouse, land)
location
Ichinohe-cho Kotoriya-ji Park
owner
Ichinohe town, individual
Holding group
Management organization
home page
Overview
The Former Park Family House is located in the northern part of Iwate Prefecture, in a mountainous area along the former Oshu Highway.
The main building of the Yodo Building, built at the end of the Edo period, has a large scale of 30m with 16.4m between beams, and about half of the north side is in the ground, and a Maya is set up in part of it. The south half of the main house is covered with a floor, facing the earth, set up a daidoko, and set up a three-room seat in the back. A ceremony stand is held in front of the kitchen, and it has a formal style such as letting a long press be done in the room.
The Former Park Family House is a large-scale private house with a solid shaft structure and a vast interior space, and it clearly shows the characteristics of the upper-class houses in the Southern Territories, such as the enhancement of the customer service space, and high value.