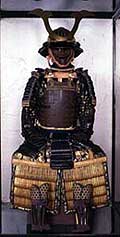 | | |
| --- | --- |
| Pseudonym reading | I would like to go to a bowl |
| Specified type | Prefecture designation |
| Type | Craft |
| Designated date | December 4, 1981 |
| Specified details | |
| quantity | 1 territory |
| location | Hanamaki-shi Ehime-cho |
| owner | Oyama Temple |
| Holding group | |
| Management organization | |
| home page | |
Overview
Chopsticks, large sleeves, small gadgets included.
Overall height 33.5 cm.
兜 陀 四 間.
Barrel iron rusty ground side double sheet drum.
Period Muromachi period (Sengoku period).
This is a valuable piece of art, with few armored parts at the end of the Muromachi period.
It is said that the Hanamaki castle lord, the Hokushin Ai wear.