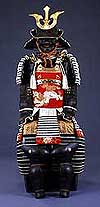 | | |
| --- | --- |
| Pseudonym reading | Unoha is addicted to rice dumplings. |
| Specified type | Prefecture designation |
| Type | Craft |
| Designated date | December 4, 1981 |
| Specified details | |
| quantity | 1) |
| location | Morioka City Ueda Matsuyashiki |
| owner | Iwate Prefecture |
| Holding group | |
| Management organization | |
| home page | |
Overview
A total of 38.0 cm in height with a sleeve, a large sleeve, and a small base.
兜 陀 間 間.
Torso body armor wrapped Tang gyoza peony statement embroidered two sheets.
Period Mid-Edo Period.
Southern tradition.
It is reported that the 35th Nanbu Toshimasa wore it during the ceremony of the original clothes (the ceremony of an adult boy).
Wrapped in a flaming red rattan, embroidered apricot and peony with gold and silver thread, and harmonized well with the white cotton flower thread.
It is the only work in the prefecture as the original clothing armor of a daimyo family.