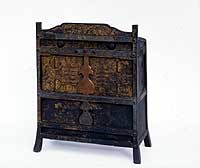 | | |
| --- | --- |
| Pseudonym reading | I am so happy |
| Specified type | Prefecture designation |
| Type | Craft |
| Designated date | August 5, 1983 |
| Specified details | |
| quantity | 1 spine |
| location | Tono City Shiori-cho |
| owner | Abe Nao |
| Holding group | |
| Management organization | |
| home page | |
Overview
83.6 cm in height.
Width 71.6 cm.
Depth 35.0 cm.
The inside is covered with a shelf board and has two upper and lower sides.
The upper part is a door with a double door, and the lower part is with a single plate.
The front is pasted with a gilt bronze plate on the entire surface.
The other faces, except the front, remain black and are not decorated.
The inside is also painted black and pasted.
The patterns are punched out of a gold-copper plate and line-cut from the top, and the patterns are different depending on each and every hole and column.
The two doors on the front door are the Buddha of the Buddha and the Dainichi Nuri, while the doors on both sides are the Seishite and the Kannon.
Also, among the four Buddhas in the head part, the winning enemies, Sesakuten Ten and Suzou Jizo, are two-thousons derived from the east conquest of Sakauedamura Maro, and the performers of the column between the column and the former demons, and the latter demons are the ancestors of Yamabushi practice. .
The geology is filled with fish and eggs (pine, plum, wisteria), animals (deer, monkey, rattan, crane, turtle) and other patterns.
It is a work of the Muromachi period that is known to the Tono Haguro School of Charities.
It is a noteworthy relic that is close to perfection and has a northeastern pattern.