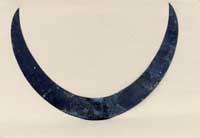 | | |
| --- | --- |
| Pseudonym reading | This day |
| Specified type | Prefecture designation |
| Type | Craft |
| Designated date | May 1, 1984 |
| Specified details | |
| quantity | 1 bit |
| location | Ichinoseki City Daitocho Chokai Ogawa |
| owner | Okita Shrine |
| Holding group | |
| Management organization | |
| home page | |
Overview
Total height 70.0 cm.
Total width 84.7 cm.
Era The period of the north-south morning.
An ant is a decoration attached to the top or back of a bowl of a mochi, and there are various types such as a bowl, a half moon, a sun ring, a moon ring and the like.
The gold bronze antecedent transmitted to Ichinoseki Daito-cho Oda Shrine apologized for the win of the previous nine years, and the source Yoriyoshi dedicated to our company, or Tensho 18 (1590) Waga dedicated to our company when it was dropped out It is also reported.
Two semi-symmetrical symmetrical squares are inserted into the center to the left and right and fixed, and the whole figure is large, drawing a deep arc and sharpening the left and right ends.
On the platform, fish and eggs are hit on the entire surface, and the patterns of the standing clouds are carved in an arabesque style.
It is a valuable artifact from the work of the North and South Dynasty.