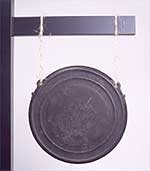 | | |
| --- | --- |
| Pseudonym reading | Evidence |
| Specified type | Prefecture designation |
| Type | Craft |
| Designated date | October 18, 1988 |
| Specified details | |
| quantity | One side |
| location | Oshu-shi Esashi-ku Yanagawa Jakajuku |
| owner | Asanuma Kenichi |
| Holding group | |
| Management organization | |
| home page | |
Overview
The surface diameter is 19.3 cm.
Height 4.9 cm.
Mouth diameter 21.2 cm.
A fish-shaped fishing rod is provided on the side of a cast copper regular circle.
There is the following inscription at the edge of the mouth.
It is thought that he was hit by the bridge with the drum used for the Nembutsu dance at another time in Tokushi during "Sanwa 3rd New Year's Day, Hara-no-Buchikichi Otobuki Masayuki".
Tomomasa will be the orderer.
The circumference of the hole in the fishing seat was worn down remarkably, and it was told that it was actively used along with many nicks in the drum.
The name of Masakazu 3 (1314) is the oldest of the similar items in the prefecture with the inscription of the year, and the appearance is also valuable.
image