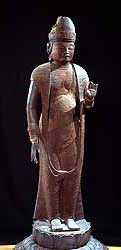 Overview
Image height 117.2 cm.
Finished with wooden, Katsura, one wooden, and bare wood.
Face-sculpted body, upper body naked and horizontal line-sculpted.
The Tengu hangs from the shoulders to the left and right, crosses the front of the knee, and hangs on the left and right arms.
It is characterized that horizontal stripes using a round sword are noticeable, and eyebrows, lips, beards, etc. are drawn with eyebrows or ink.
It represents clean, clean and beautiful beauty.
It is the main temple of Tendai-ji Temple, which is said to be the oldest in Tohoku, and is believed to be the Katsura-Shimizu Kannon of a single-sword, three-fed work.
The original base is lost, the left hand four fingertips are lost, and the right wrist is also a tip.